About the band
In addition to Six By Six, Carol and Brian are enthusiastic members of a larger band called Lucid Diversity.

They love to play all kinds of acoustic music including: country, celtic, bluegrass, traditional, blues, rock, pop and folk.

Dave Bradt first became smitten by banjo and enjoyed years of playing 3-finger and clawhammer. A chance meeting with a Dobro student changed everything he became a Resophonic guitar enthusiast. Dave's latest love is the bass guitar.

Brian Howe started playing guitar when he was 14 after hearing the Kingston Trio and got hooked on folk music. In the late 1960's he played in a group out of Winnipeg called Maple Sugar. They toured professionally for a time. Now Brian just plays for the love of it.

Brad Tomlinson is a late in life player having picked up the guitar at age 46. Brad loves guitars and is known to have G.A.S. (Guitar Acquisition Syndrome) with a few mandolins and other instruments also creeping into the house.

Carol Bloor is a flatpicker and fingerstyle guitarist who is mining the wealth of folk and bluegrass from the 1960s forward.

Together, they are Lucid Diversity.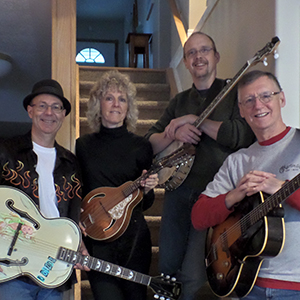 January 9, 2019
5:00pm
Hillhurst Sunnyside Community Association
Calgary, AB
Venue
Map
January 19, 2019
2:00pm
Calgary Farmers' Market
Calgary, AB
Venue
Map
June 15, 2019
TBA
Water Valley Celtic Folk Festival
Water Valley, AB
Venue
Map
September 7, 2019
TBA
Mountain View Arts Festival -
Reminisce
Didsbury, AB
Venue
Map
September 21, 2019
TBA
Kamp Kiwanis Apple Festival
Calgary, AB
Venue
Map
TBA
TBA
Silvera - Aspen Lodge
Calgary, AB
Venue
Map
TBA
TBA
Prairie Sky
Calgary, AB
Venue
Map